All Americans deserve access to quality, affordable healthcare.
Healthcare is personal for Kathleen. When she was 11, her mother started to lose her memory. It was early-onset Alzheimer's; she was only 49. Her father and Kathleen became her mother's caregivers for eight years until she passed away. Kathleen knows what a healthcare crisis can do to a family. As Kathleen travels the state talking with Montanans, she knows it is unacceptable that some pay $2,000 a month with a $10,000 deductible; or sacrifice food or utilities to pay for medicine.
Kathleen believes Congress needs to get moving on fixing the expensive and inefficient patchwork of a system we call healthcare in America. There has been so much partisan bickering in Washington over healthcare and we still can't move forward. That has to change. 
As a state legislator, Kathleen worked hard to find common interests in unique places.
She passed legislation that stopped insurance companies from denying routine care to cancer patients. It took four years, but it's saving lives. She worked to eliminate surprise medical bills and address discrimination in our insurance laws.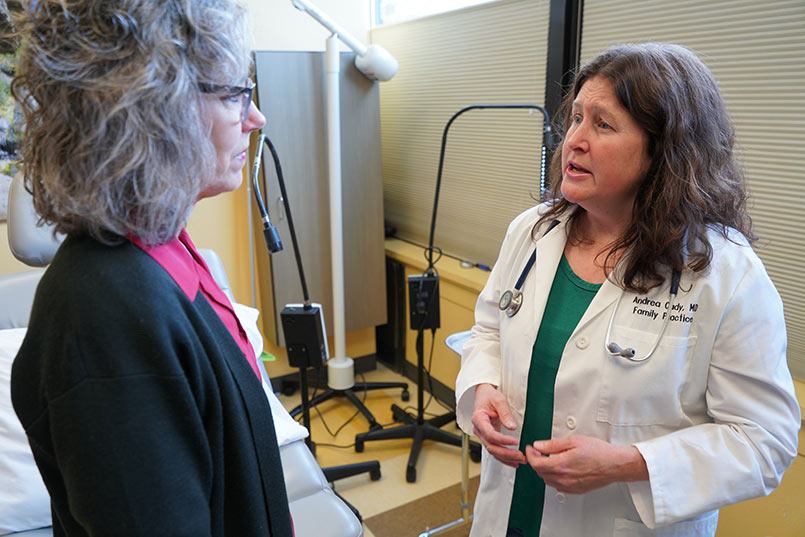 As your Congresswoman, Kathleen will fight to:  
Give Americans 55 and older the option to buy into Medicare. This would immediately lower overall costs for those in Medicare as well as those on private insurance.

Maintain important provisions in the Affordable Care Act, including protecting coverage for those with pre-existing conditions and allowing people to stay on their parents' insurance until they're 26.

Address the skyrocketing prices of prescription drugs. This starts with allowing Medicare to negotiate for prescription drug prices, like Medicaid and the VA can now. This alone is projected to save $11 billion per year.

We also need to advance the production and viability of generics, and ensure the public benefits from taxpayer investment in pharmaceutical research.

Ensure Congress fulfills its commitment to protect middle class workers and families from the subsidy cliff that makes healthcare far too expensive and sometimes unattainable.

Stop rewarding the healthcare system for the amount of care they provide and start rewarding the quality of that care. We should shift to integrated healthcare delivery mechanisms, such as PACE

, direct primary care, and other creative ways to keep costs down, advance preventive care, increase patient choice, and allow aging in place.

Make sure women retain their ability to make their own health care decisions without government interference.

Fund the Children's Health Insurance Fund (CHIP), and the Community Health Center Funds

permanently, rather than using them as political footballs.

Ensure everyone can access the behavioral health services they need. Montana has one of the highest suicide rates in the nation.

We must reduce stigma of seeking mental health services, and ensure Montana is able to participate in the Excellence in Mental Health

programs as they are expanded.

Protect Medicare and Medicaid from cuts and improve service to rural communities.