One of Kathleen's strongest motivations to serve is Congress is the many stories Montanans have shared with her as she asks them their priorities - their hopes, struggles, and dreams. It's not about ego, power, or self-promotion for Kathleen. It's about solutions and service. Here are just a few of the stories we've heard in our travels, and how Kathleen proposes to help.
We'd rather make money selling our crops on the market, not through government assistance." — Sarah Rachor
Optimism and grit in the face of economic challenge
A 4th generation Montanan returns to continue tradition on her family farm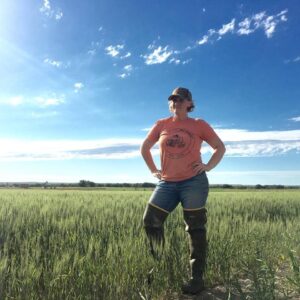 When folks think of Montana, many of us picture rows of grain stretching as far as the eye can see, from mountain range to coulee. Green waves like a living, landlocked ocean in high summer, turning a robust, golden hue by harvest. For Montana's hardworking farmers, these fields are more than iconic imagery — they are the physical manifestation of seasons, years, and generations of commitment.
Sarah Rachor is a fourth-generation farmer who returned in 2017 to carry on the family legacy at the age of 37 — just as questionable trade policies began to impact America's ag producers. Along with relearning from her father the practical aspects of stewarding the land her great-grandfather homesteaded near Sidney, she has had to adapt to the economic rollercoaster she faces with each production decision. She recounts waiting in line at a grain elevator and experiencing the real-time volatility of new grain market realities. "A tweet from the President as I sat in my truck, and the market impact was immediate and dramatic. The farmers in line behind me lost 10 cents per bushel on their selling price."

As a beginning farmer, I've had great support from FSA, and NRCS programs — but even with government help, along with payments to help overcome gaps in the market, we're still barely out of the hole. They cut the Market Relief payments in 2020 because, supposedly, they've fixed all our trade issues — although I haven't seen my market change. At $15 per acre, the payment we got last year didn't even cover the fuel to run my combine."

She continues, "If the market was more stable and we had good relationships with the rest of the world, we wouldn't need these programs. We'd rather make money selling crops on the market, not through government assistance. We are thankful the assistance is there, but it isn't a short term solution if we need it every year. China isn't paying for the tariffs, all of us as consumers are!" Sarah made the same income in 2019 that her father did in 1979, but costs for her are four times as high. High operating costs combined with low crop prices make it challenging for Montana farmers like her to break even, let alone make progress.

Sarah reflects the perspective of many in rural Montana, "Farmers are generally optimistic people, and we are all still optimistic. Especially in the spring as we watch our hopes grow along with our crops. Hope that the market will be there, someone will need what we chose to raise, and we can get paid a fair price. The hope is still there this year as always, but the volatility and uncertainty are weighing on even the most optimistic farmers I know."

And it's about more than farming. Sarah's nine-year-old daughter loves living on the family farm. "She's talking about what kind of animal she'll raise for 4-H this year, and she loves the 4-H photography program. Our land runs along the Yellowstone, and we love to watch wildlife along the river. My daughter took a wonderful photograph of a coyote pup. Ours is a good life. We want to be farmers for life, and give our kids the chance to keep the family farm running forever."

"I do believe it can be better — if we can compromise. I'm glad more people are paying attention to policy and getting involved. It begins with local politics, like more people attending school board meetings, and running for local office. I have to care. We have to care."
How Kathleen proposes to help...
Trade policies that increase market volatility have had a sizable impact on America's ag producers. To help young people like Sarah successfully get back to the land, Montanans need a representative who will fight for them when it comes to tariffs and trade negotiations.

It's also critical to address market concentration, where packers and large corporations continue to profit while farmers and ranchers are paid less. We can encourage locally-grown, locally-sold foods, mandate truthful country of origin labeling practices, enforce anti-trust laws, and ensure farmer's incomes better match their production, so they aren't forced to rely on assistance for survival.

Throughout her career, Kathleen has worked with farmers and ranchers to resolve water rights issues, help diversify their incomes, ensure Farm Bill programs work, and address predator conflicts — she'll go to bat for rural Montana and our ag producers in Congress, something that's been missing far too long. See more on Kathleen's Issues page, Fighting for Rural Montana.