One of Kathleen's strongest motivations to serve is Congress is the many stories Montanans have shared with her as she asks them their priorities - their hopes, struggles, and dreams. It's not about ego, power, or self-promotion for Kathleen. It's about solutions and service. Here are just a few of the stories we've heard in our travels, and how Kathleen proposes to help.
"If we can change the system, give rural Montanans the support we need, better access to medical care and mental health services, make things more affordable, that'll make a big difference for all of us." — Kurt Dyer
Perseverance through a positive mindset
The need for affordable, accessible medical and mental health care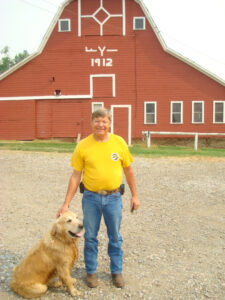 Kurt Dyer has spent the past 54 years managing his type one diabetes. Diagnosed at the age of 14, the 68-year-old is now also managing the challenges of a medical system that has failed to provide affordable, accessible care for rural Montanas like him.
Kurt was born and raised on the family farm in Brady, Montana, where he lives today. With two degrees from MSU he began a career with Montana Fish Wildlife & Parks (FWP), where he managed the fishing access and recreation sites in much of central Montana.. "I really enjoyed my time with FWP; I worked with a lot of good people, and I loved caring for our beautiful state. I met my wife in Great Falls while working for FWP Region 4, and we decided to move back to my family's farm in 1981.
I lost my son in 2008, my wife in 2012, and my mother in 2016. Now I'm living out here in the country all by myself, and it's a real isolated feeling when you have all sorts of medical problems; it costs so much to stay healthy, and you have to do it alone. Living on the same land my parents and grandparents did means a lot. But for someone like me who needs regular medical care for my diabetes, living here instead of in a bigger city requires a trade-off. I have to travel a long way for my doctors' appointments — I regularly drive 100 miles each way for the doctor. If it was just an inconvenience to make those drives, that'd be one thing, but it feels downright dangerous for me sometimes. I've wrecked several vehicles driving with low blood sugar. And with the winter storms we get in central Montana — it's a real problem.

Apart from not having a doctor nearby, the cost of my insulin has been skyrocketing for decades. The fact is, there are pharmaceutical companies ripping off Americans, charging 10 times which they should be. They're making record profits, millions and millions of dollars, while we're just trying to survive — there's no protection for these people out here in rural communities, trying to live on retirement funds or on low wages who are forced to pay crazy prices for these drugs we need. For a lot of people that means choosing between paying for insulin, or for heat in the winter, or food to eat. If I don't buy it, I'll die.

Losing my family over the years, my son and wife and mother, I was diagnosed with PTSD. I understand all too well what people who've committed sucide have experienced. From losing family, to going into debt trying to keep the family farm or ranch running... a lot of my neighbors have to deal with these things. I can see those feelings, depression and isolation, increase in myself too, over the past few years. But it's hard for us to talk about. There's a stigma. You can't just go into a bar and find the connection you need — nobody wants to hear your sad stories, how isolated you feel, how depressed you get. Depression takes its toll out here in rural Montana.

"When I lost my wife, I asked around and found a counselor down in Great Falls. We talk a lot about how to stay in a positive frame of mind. There's no way I'd be able to deal with these thoughts by myself without somebody to talk to. I don't like using the computer much, but I'm on FarmersOnly.com, trying to meet somebody I could get to be friends with, spend some time with. For now, I'll continue to make the long drives to Great Falls for counseling, and Helena and Missoula for my diabetes... I've gotta go on with my life here and do the best I can. I have a daughter who lives in Helena, and I want to stay healthy so I can help her and her family. I have a dog here on the farm with me, a golden retriever, and without him it would be really tough.

"I don't want my neighbors and friends and family to have to rely solely on a positive mindset to get through challenges like I do. If we can change the system, give rural Montanans the support we need, better access to medical care and mental health services, make things more affordable, that'll make a big difference for all of us."
What Kathleen is doing to help...
Kurt's story is, unfortunately, far too common.

We need to address the skyrocketing prices of prescription drugs. This starts with allowing Medicare to negotiate for prescription drug prices, like Medicaid and the VA can now. This alone is projected to save $11 billion per year in costs. We also need to advance the production and viability of generics, and ensure the public benefits from taxpayer investment in pharmaceutical research.

Congress also needs to ensure everyone can access the behavioral health services they need. Montana has one of the highest suicide rates in the nation. We must reduce stigma of seeking mental health services, and ensure Montana is able to participate in the Excellence in Mental Health programs as they are expanded. See more in Kathleen's Issues page, Getting Montanans the Health Care they Need.